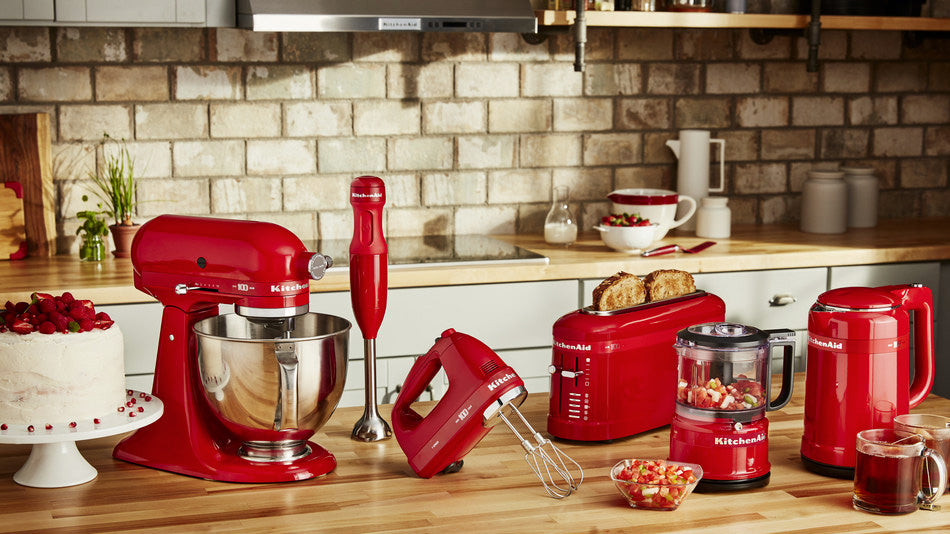 The best KitchenAid I ever had!
KitchenAid has been a long standing institution since 1919 when they introduced the stand mixer, designed by an engineer from the Hobart manufacturing company, Herbert Johnson. He was inspired to design the stand mixer after observing a baker mix his dough. The name was coined when the wife of one of the executives on the team said "I don't care what you call it, but I know it's the best kitchen aid I've ever had!". 
KitchenAid became a household name because it's mixing mechanism is different from the other stand mixers on the market, KitchenAid uses a planetary motion to fold in the ingredients - the head rotates in one direction and the tool rotates in another direction which helps to whip and fold the batter at the same time instead of just mixing the ingredients plus the fact that they are durable added to their good reputation.
KitchenAid has produced premium and durable appliances that have been carefully designed with attention to detail and a versatility that has not been seen before, since its inception. KitchenAid is the singular answer to setting up a well equipped kitchen, they arrived on the Indian countertop in 2013 and have been building quite the community since. They sell all kinds of essential equipment from cookware, bakeware to essential tools and accessories that you would need to whip up any meal. 
KitchenAid started in America and the love affair is long and deep, and the rest of the world is catching on to it. Everybody swears by KitchenAid, whether it is a millennial with a newfound hobby of baking or any of the greats such as Julia Child, Martha Stewart and Molly Yeh. The pandemic also created a huge increase in people who started baking and cooking as a hobby.
KitchenAid is quite the old reliable, it is trustworthy and sturdy. It has more than a fanbase, people are obsessed with KitchenAid and if you take good care of your KitchenAid, it can outlive you. It is a family heirloom for most people and is passed on to the younger generation. It has been like a cornerstone to family traditions and a part of many people's roots. This could be your new best friend and the start of a lot of beautiful traditions for your family or even the start of your business. KitchenAid's popularity boils down to its great design. Trust us, this will be the last mixer you will ever buy. Check out our collection.