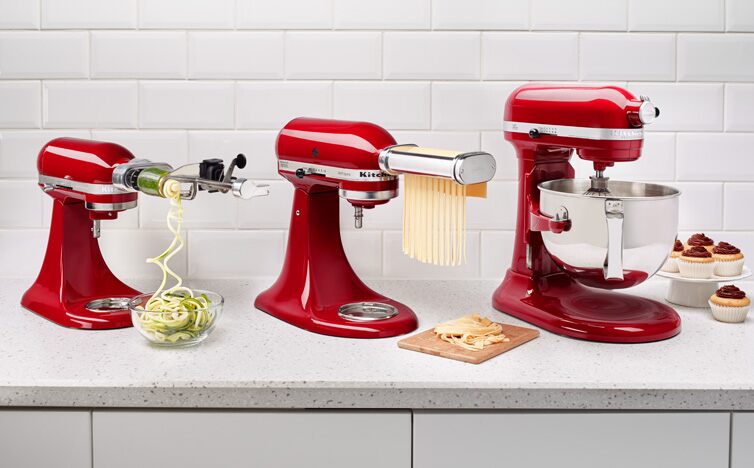 The perfect cookie dough
Cookie dough is the universally accepted comfort food. So much so that it's even being sold packaged in grocery stores, but who wants that processed food, we are thinking healthier and home made from now on. The crucial thing about cookie dough or any batter for that matter is its consistency, and to get that right consistency it is important to have a mixer. We bring to you KitchenAid's stand mixers. They meet your baking needs and look great on your kitchen countertop and the bowls and whips are easy to clean. There are three types of KitchenAid stand mixers: the Artisan mini Tilt Head, Tilt head and the Bowl Lift Stand Mixers. Let's figure out the right stand mixer for your needs and nothing less. Here are a few KitchenAid stand mixer models and their features.
KitchenAid  3.3L Artisan Mini Stand Mixer
This is perfect for those of you that bake as a hobby, who are single or just have one other family living with you, have a small kitchen space and need something compact and aesthetic. It has 10 speeds and goes from a slow mix to avoid the ingredients splashing  to a fast whip. The head can be tilted backwards, so that you can add the ingredients to the bowls. You can make anything with this stand from cookie dough to pasta. It is compatible with all the KitchenAid attachments.   
KitchenAid 4.8L Classic Tilt Head Stand Mixer
This is a larger stand mixer perfect for those of you who have large families to cook for. It is multi purpose and can be used to make anything from pastas to ice cream. It comes with 5 standard attachments and has 10 speeds and a tilt head to make it easy to add ingredients to the bowl. Your answer to whip up a dessert or a main course meal for your family.
KitchenAid 6.9L Professional Stand Mixer
If you host parties at your home and love to show off your cooking skills, this mixer is the perfect answer. It's durable and easy to clean. It comes with a cover for the bowl, to help prevent ingredients from splashing or spilling out and 10 mixing speeds. It comes with 4 standard accessories, the all metal design makes it silent and smooth while mixing ingredients. 
As you can see KitchenAid has a variety of options for your various needs. Check out our KitchenAid collection and the accessories available as well.