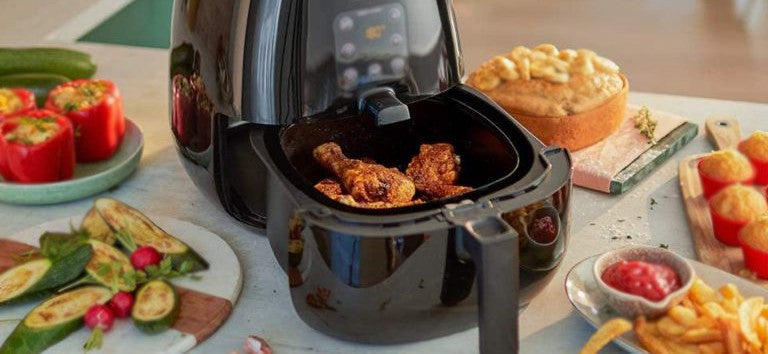 Fries, anyone?
Who can resist the crunchy golden goodness of wedges and fried chicken? Definitely not us. Going on a diet is so freaking hard, we know the struggle. Especially for those of you trying to cut and maintain a calorie deficit and all of you trying to maintain your health and cut down on all that rich food, but food cravings are often hard to beat. The mantra of one step at a time is great, but healthy alternatives to your favorite food is better. We are not talking carrot sticks or cucumbers to replace your fried finger food cravings, we are talking fried food - but healthier - air fried food. 
Air fryers are probably one of the coolest additions to your kitchen, you get to make meals that are healthy and interesting at the same time, you don't have to necessarily replace all your favorite food with salads or greens just to keep your health in check. Essentially air fryers eliminate the need of excess oil to fry food, you can use them to make nuggets, wedges or chicken - any of the snacks you would normally deep fry. You can add a very little amount of oil if you wish to do so. 
Air fryers work sort of like a convection oven, it circulates air that is heated up to 180 C around the food and cooks the outside to crisp perfection while maintaining the inner moisture of the food. It cuts down the calories in fried food significantly and reduces the fat content by eliminating oil.
Buying an air fryer could be your first step towards enjoying your favorite food guilt free, you get to enjoy your food just by swapping it with the healthier and exact same substitute. Go ahead and take that first step - get an air fryer - check out this collection.